Luxe Domain downsizing article 'Change of scene' in Home Living, Herald Sun. March 2020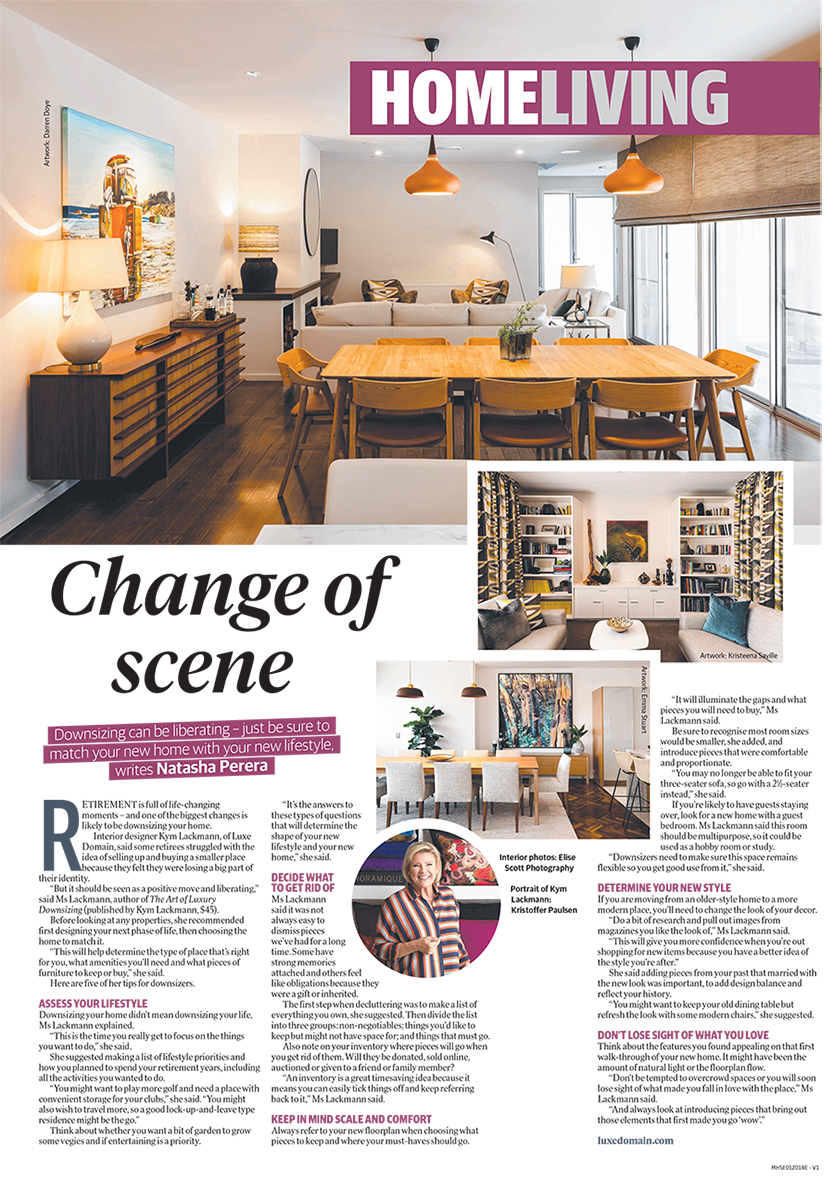 Luxe Domain downsizing article 'Making the move' in Home Living, Herald Sun. August 2019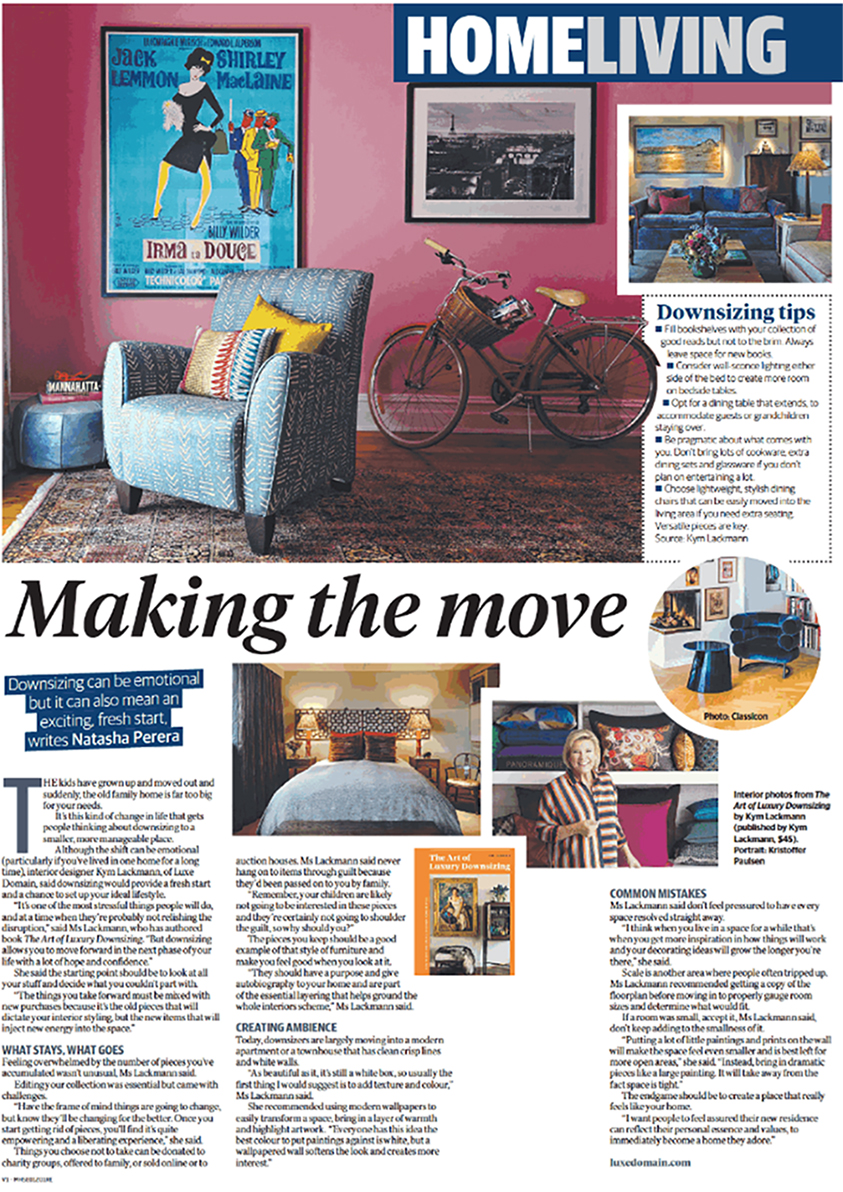 'The Art of Luxury Downsizing' book launch at My Bookshop by Corrie Perkin, May 2019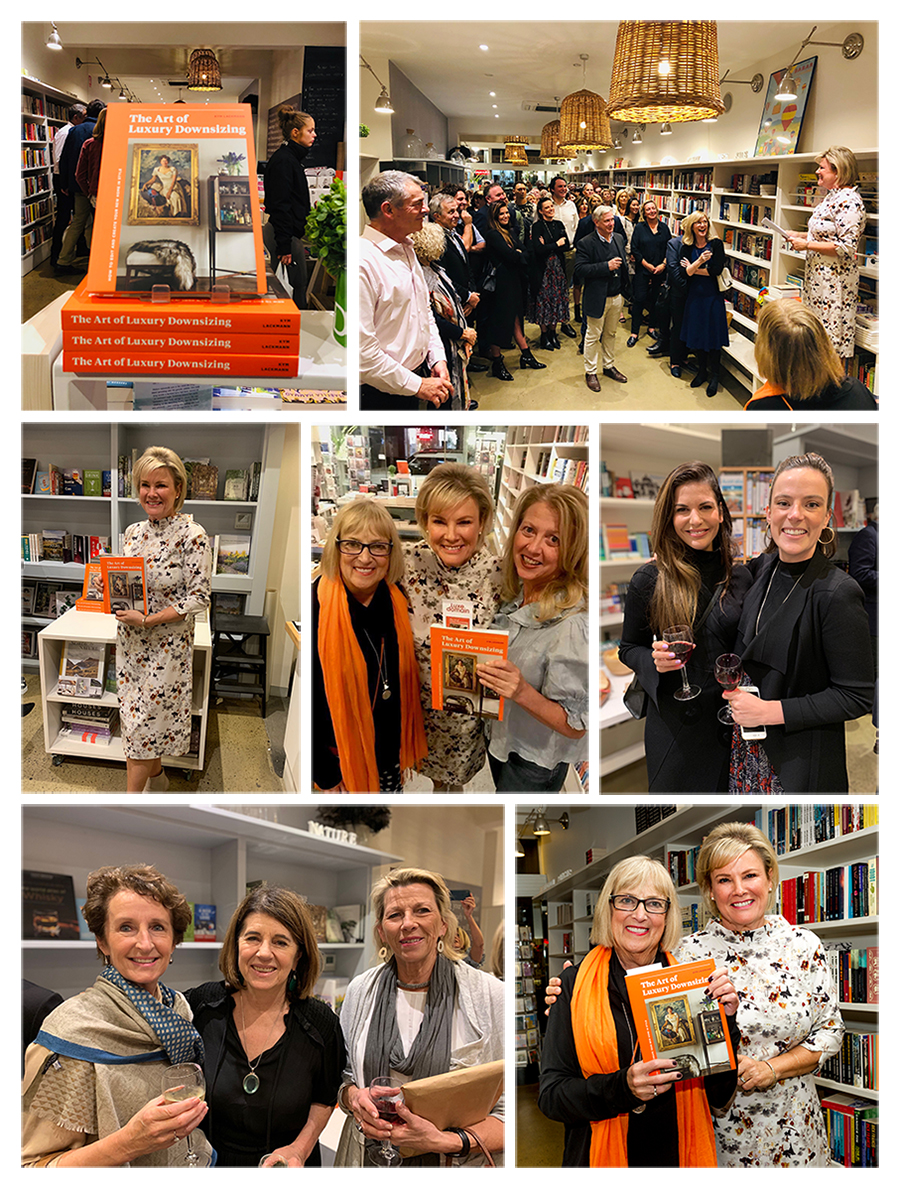 Luxe Domain downsizing article in Virgin Voyeur Magazine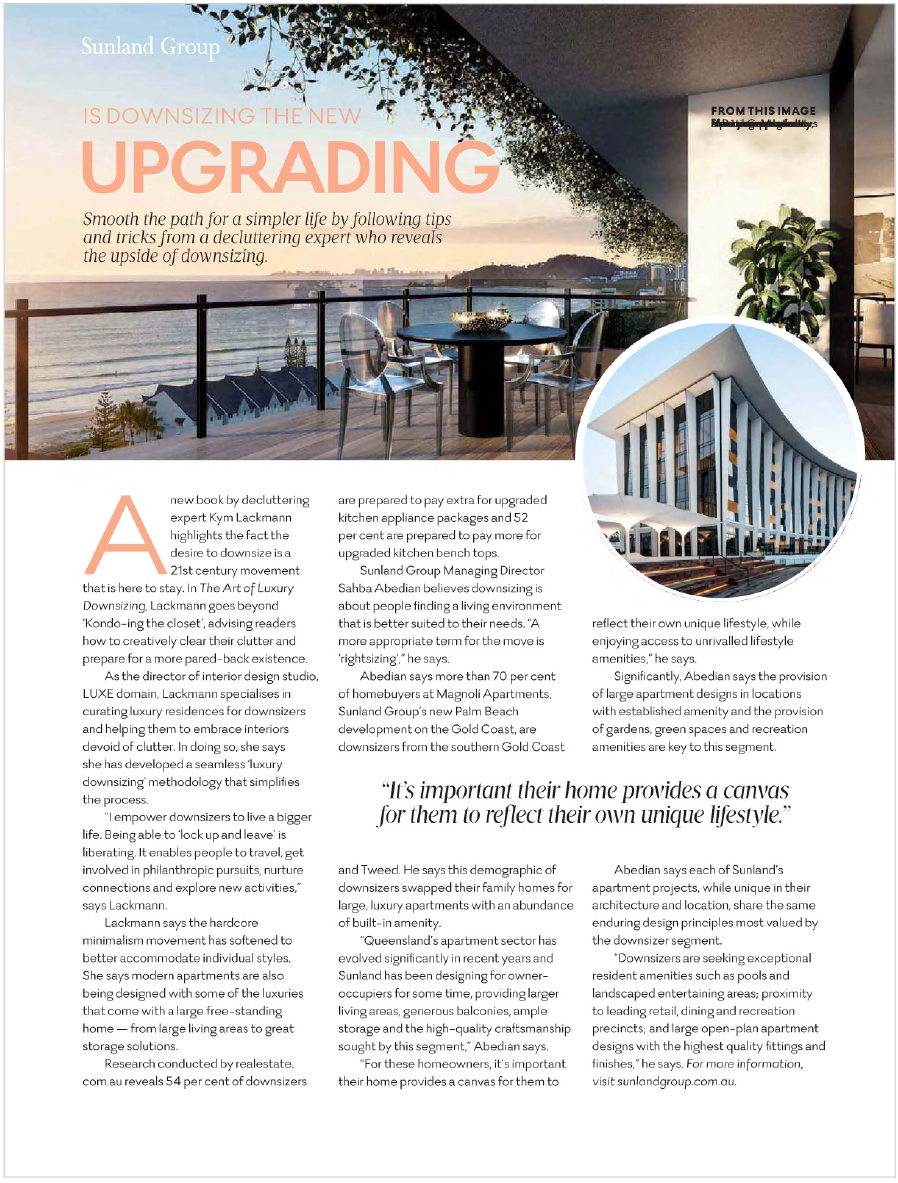 Q & A with Kym Lackmann
This month we speak to Kym Lackmann director of Luxe Domain, a specialist business helping people achieve their luxury downsizing dreams through advice and design services. Tying into our George + Powlett residences which have attracted interest from downsizers, we hear from Kym about the process she takes with her clients and what constitutes modern downsizing.
Interview conducted by Icon Developments, Australia Pty Ltd, October 2018.
What encompasses 'luxury' downsizing?
At Luxe Domain we adopted the term 'luxury downsizing' because we felt the term 'downsizing' had a slightly negative connotation. By using this term we also wanted to articulate both the interior design and the organisational aspects of this unique service.
Essentially, we assist our clients in creating a timeless and sophisticated home lifestyle that they might have been yearning for years.
For our clients, luxury might mean finally having the beautiful furniture and fabrics they've been craving but just hadn't had the time nor the where with all to source or, conversely it could simply be having the ability to clear out all the old furniture and related bits and pieces and paring down to a simpler existence, with modern furniture.
Through your work, what have you found most downsizers are looking for?
To start most of our clients are wanting to relieve the burden of all the maintenance and security costs of running a large family home. They're also looking forward to travelling more and being able to 'lock up and leave', which an apartment space or a townhouse would allow them to do. Other clients, particularly older ones, are looking to be in a building which they'll be co-habiting with likeminded people. Beyond these criteria, clients are looking for an efficient home with modern amenities and which reflects a narrative of their lives.
Their new interior spaces need to comfortably cater for their hobbies and passions, and should be versatile enough for them to be able to entertain at a moment's notice (especially if they have family and friends likely to drop in) and to accommodate grandchildren for sleep overs. We find that even when clients have purchased an apartment they worry how their bits and pieces will 'work' in the sleek finishes of a new apartment. One of our main priorities is to design around the items our clients are passionate about because these will not only 'ground' the new interiors but they will inform them as well. It's important for the new interior spaces to have some reference (even if only minor) or essence of the former family home.
Many of our clients own considerable collections, whether they be of art, antiques or sporting memorabilia and consequently they're interested in apartment spaces that will give them the opportunity to display them properly. Apartments with more wall spaces are very appealing as are those with cellaring for wine collections.
Even though 'space' often is decreasing when downsizing, is there anything that peopleare gaining?
Yes, indeed. Believe it or not many of the apartments we help our clients move into have
excellent cupboard and wardrobes spaces. Often large old family homes don't have well thought out storage, simply because it wasn't a priority when they were built. Purchasers of newer apartments are also gaining modern amenities, particularly kitchens and bathrooms, and opulent finishes.
From a psychological view, clients who downsize have the opportunity to go through everything they own and to identify which of their belongings are of very real value to them. In the past they might have held onto items because they felt they had to…the burden of guilt. Having gone through this cathartic process they're able to move forward feeling a lot more in control and with a definite 'pep in their step'!
For older female clients, they often gain a real sense of security when moving into an apartment building and they appreciate the assistance offered by the concierge desk if there's one in the building.
What age are people starting to downsize today? Have you noticed this is older or younger than before?
With the advent of Marie Kondo and smaller apartment spaces for the younger demographic you will find that there are some 35 year olds who are downsizing to a more streamlined life. However, our clients tend to be 55 years old and older and they're in the process of selling the family home and are looking for a more 'streamlined' home to begin the next phase of their lives.
Why are high-end apartments popular with downsizers?
Well, this is what they've worked so hard for! And, really, this is the beginning of the most important phase of their lives – this is when they can have what they want and do exactly what they want to do.
For many that means finally being able to devote more time to enjoying themselves, such as boating, golf, tennis, or bridge. Others may devote more time to philanthropic causes. And of course, for most, it's being able to spend time with grandchildren.
As mentioned before, the level of amenities and security are very appealing to purchasers of high end apartments, and it's important for them to feel their home is appealing so their grown children and friends will continue to visit on a regular basis. It's about being readily available, in the know and feeling relevant.
It is not unusual for some clients to sell or get rid of just about every piece of furniture they own simply because they want to start afresh and not have their new interiors being dictated by tradition or inheritance.
Introducing Colour into Your Home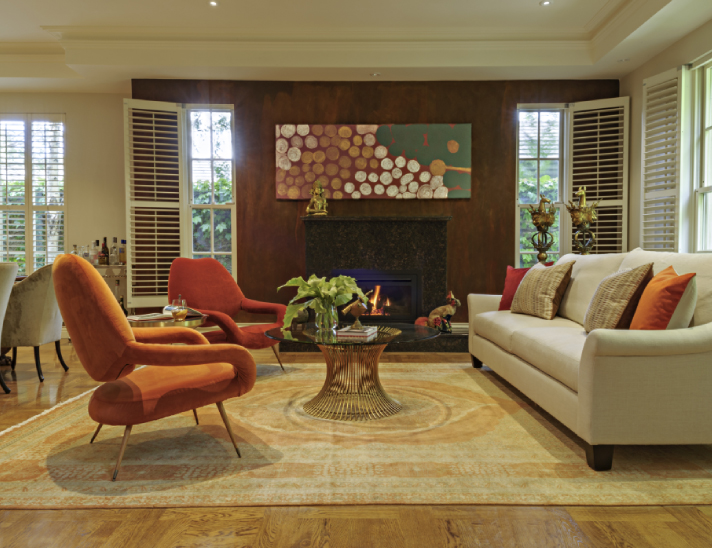 Decorating your home with neutrals is safe, classic, and chic. In a way this timeless style of decorating will save you from any certain disaster with the paint can.
However, over time you might find yourself bored with the same old white, beige and tan colours. Bored is not good – especially when it comes to your humble abode. Colours in interiors evoke all sorts of emotions – energy, calming, revitalising, happiness etc. What feeling are you hoping to create by introducing colour into your home?
Read on for our 8 helpful decorating tips which will help you introduce colour into your neutral zones.
8 ways to decorate your neutral home with colour:
Add a patterned rug:

Adding a fantastic rug is a great way to spruce things up under foot and can be a wonderful addition when tying a room scheme together. Even if you have carpet, placement of a rug on top can lift a room, inject life and create visual interest. Opt for a rug that has colourful detail or an interesting pattern throughout. A glass top coffee table placed on top of a detailed rug is a great way to allow the rug to shine through.

Accessorise:

The gathering of homewares or accessories in the same colour palette is an effective and non-permanent way to entice the eye with colourful appeal. Think of grouping green vases or bottles together – a great way to add personality to a neutral room and yet still adaptable, in that if you later decide cobalt is more your thing, changing it up is no problem. The result of colour blocking these collections is a visually stunning display on any mantelpiece or console.

Go green:

Adding indoor plants or floral arrangements throughout your home will not only give your home a desirable botanical appeal, but it will also add touches of vibrant hues of green to your scheme. A big trend for 2016 is bringing the outdoors inside, and the introduction of greenery into the home is a wonderful way to soften the space and add a natural element to your interiors. Not only are plants objects of décor, they also have many beneficial properties such as purifying air and improving health. The fiddle leaf fig is a wonderful addition to any room – with its large lush leaves and easy maintenance, this plant will become the feature of any space.

Get artsy:

If you prefer a monochromatic colour scheme in your home, but desire a bit of personality, artwork might just be the solution to your colour woes. Adding artwork in a neutral room gives you the opportunity to add splashes of colour in a way that will allow the artwork to stand on its own, in a magnificent way. So choose a style you are drawn to and which will suit the room, for example abstract, contemporary or classic hanging art or even photography, and let the art be the star of the room.

Colourful textiles:

The addition of a striking and colourful textile can make a strong statement in a neutral zone. Think bold blankets or throws and gorgeous washed linens, to add pops of personality throughout your home, especially in the bedroom. Sumptuous saffron, tangelo and lilac colours work so beautifully with various shades of grey. So be brave and add that pop of colour.

Make a statement:

If you are fond of your neutral room, but are dying to add a bold colourful statement, then go for it! A single solitary furniture piece will make just the impact that you are in search of, in a stylish and sophisticated way. You may choose to reference a colour from a painting or cushion in the room or it may be a favourite colour you would love to highlight. Just ensure the piece is beautifully designed and you can rest assured it will be the talking point of the room.

Stay on the safe side:

If you have decided that you are ready to take the next step away from your love affair with neutrals, but don't want to stray too far from your comfort zone, stay safe with regards to colour selections. Choosing softer tones will be best to start you off. Think variations of peach, mint, blush and pale blues in faded textiles, rugs or cushions. Flowers are also a great source of inspiration to choose your pastel colour palettes. This subtle introduction of colour can lift a room and suddenly the space has that added warmth and appeal you were hoping for.

Choose an accent colour or duo:

You can tastefully add a classy touch of colour to your home by incorporating a single accent colour throughout. Think touches of sage green in lamp shades, plants, through artwork or even textiles. Although this look creates emphasis in a colour scheme, be warned that too much will be overkill! For those that want to take it up a notch, another effective technique is by choosing two distinctive colours to accessorise and accent with. Use the colour wheel as your guide…it's a great tool to co-ordinate colour schemes which are complimentary to each other, for instance red and green or yellow and purple.
There is no better time to tastefully incorporate colour into your home than during the cooler seasons. Adding colour to a space that has historically been neutral can be intimidating, but with the right guidance is possible. If you are looking to introduce colour into your monochromatic home, reference the helpful tips listed above and you will not be disappointed with the outcome!
Launch of Luxe Domain's exclusive design and relocation service in March, 2014 at John Olsen Penthouse