Well, having returned from a refreshing holiday in Sardinia and Rome, I've been busy catching up with work back in Melbourne, so haven't been able to put pen to paper, so to speak. And of course, now we're all galloping towards Christmas!
Being able to visit Italy…our first overseas holiday since 2018, was more than I could ever hope for in terms of rejuvenation and being able to absorb different culture, art and the warmth of Europe's last months of summer days
We were away for 3 weeks but still happy to come home when we did.
Now to finally continue with the essential questions you should be asking yourself before making a commitment to downsizing.
Amidst everything else to worry about, one of the biggest concerns clients have is whether there are enough living and storage spaces in their new apartment or townhouse. It's easy to fall in love with a new apartment only to find as you move in there isn't. Along with experiencing the emotional and physical stresses of editing everything you own…it doesn't make for a seamless transition.
With all of the beautiful apartments currently being built, few are able to be 'just right' for everyone. They may possess many luxury amenities, but lack dedicated space for displaying and storing items you particularly love. Shelving for books being a notable example.
Finding opportunities to add additional storage and display for our clients is one of the key functions we perform for them. Even better, we like to match new joinery to the existing fitout so that it all looks as if it was part of the original design.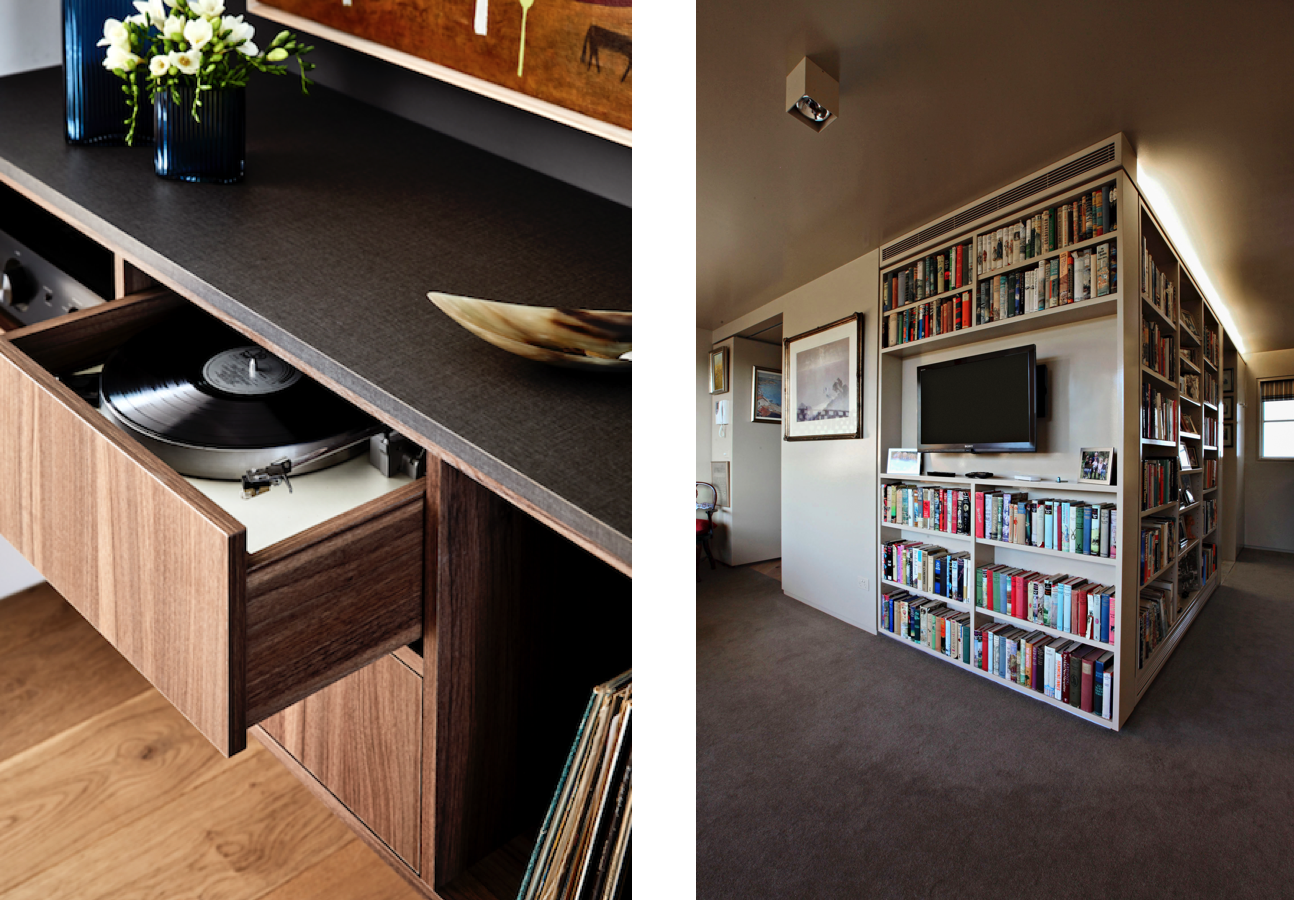 Retro fitted cabinetry to house record player and records. In another project, book shelving and TV incorporated in the master bedroom design.
Recently we finished decorating an apartment with very comfortable proportions. With north eastern aspect it is filled with loads of natural light and the internal finishes are particularly lovely.…oak flooring throughout, beautiful kitchen and bathroom fitouts complete with Calacatta marble benchtops and all joinery features fine brass inlay with brass handles.
Before moving into the apartment, our clients had successfully edited their collection of fine china down to two much loved dinner settings, a full silver cutlery setting including salvers and jugs, plus various patterned platters and bowls collected on overseas trips.
However, their new apartment had little space to store everything for easy access, let alone to display decorative pieces.  Our clients had been planning to continue entertaining family and friends in the apartment, as they'd done in their large family home.
They also had a large book collection which they wanted displayed, along with a number of artworks.
With these clients, see below for how we created a purpose built sideboard adjacent to their dining table with shelving to display their beautiful platters, storage for wine glasses, dinner settings and internal felt lined drawers for their silver cutlery. This unit not only supplies valuable storage but also additional character and beauty to a recently established living space.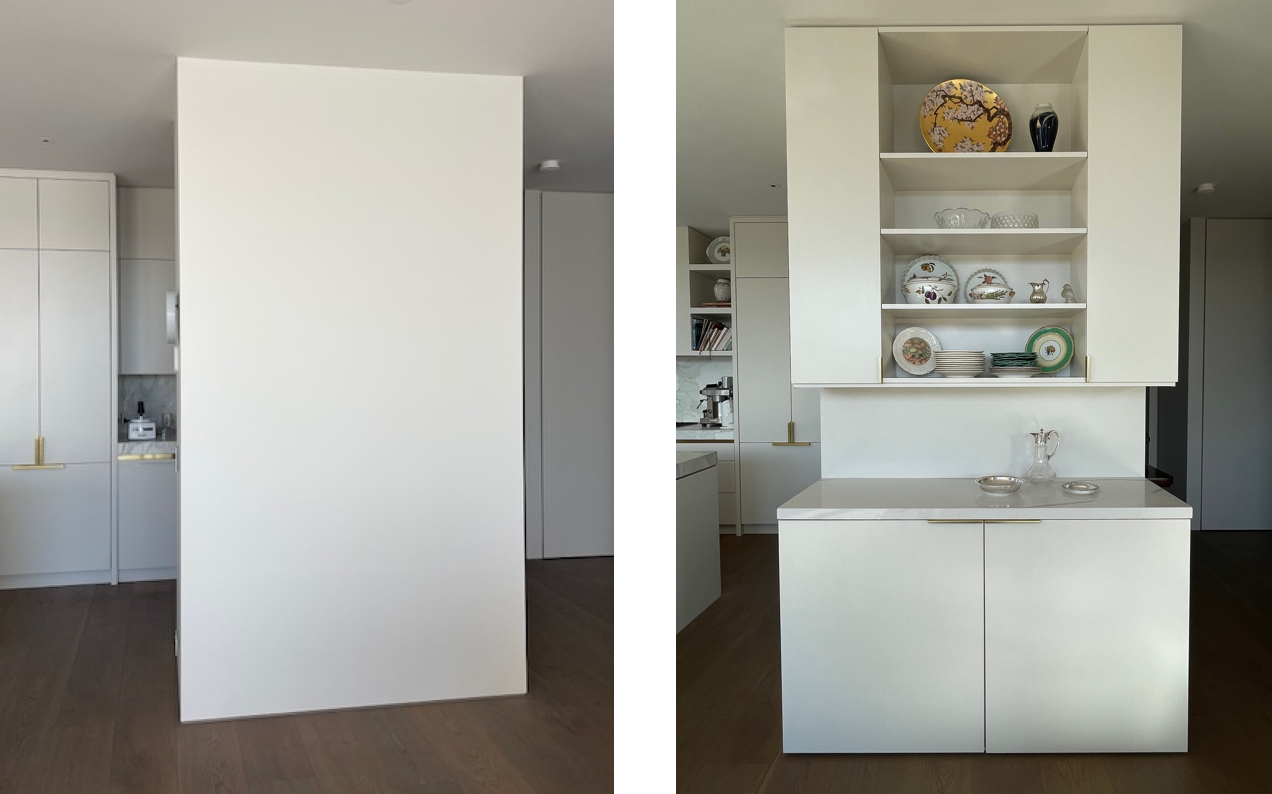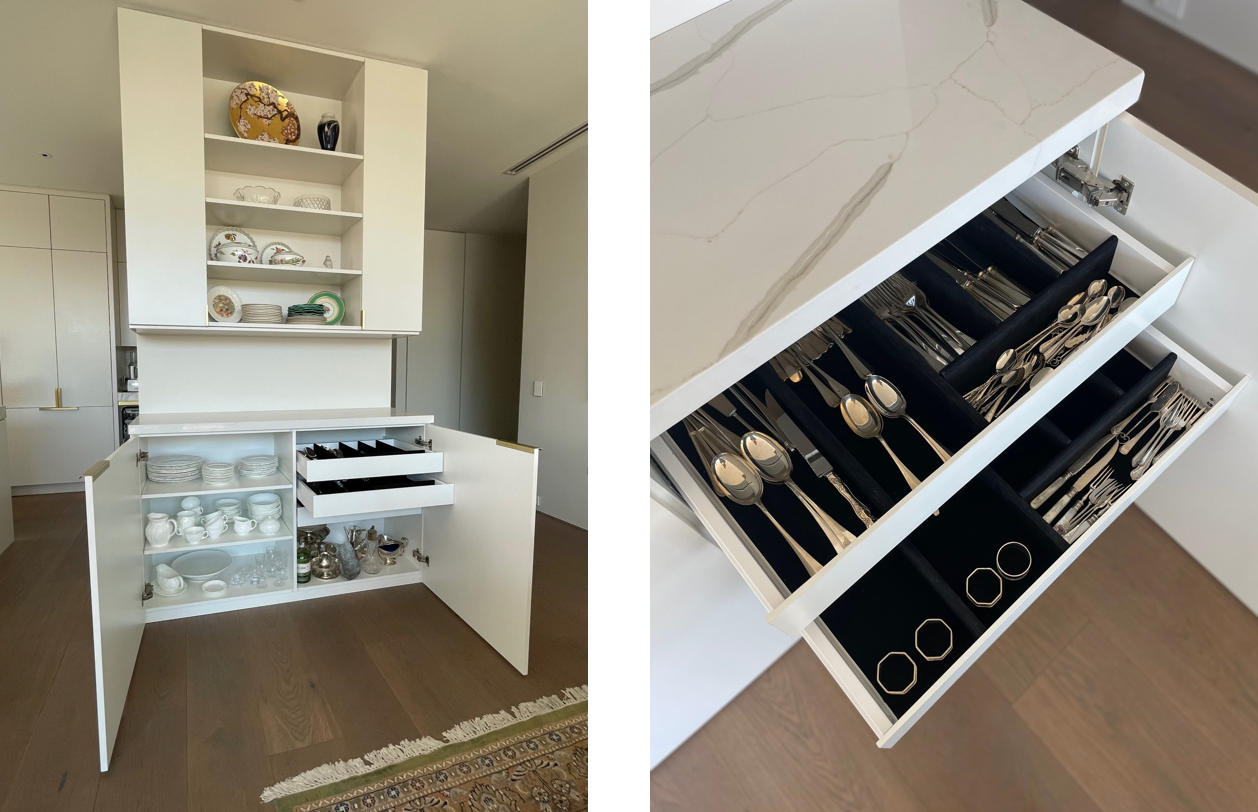 Custom cabinetry to match existing joinery, including felt lined drawers for silver cutlery.
For many who're making a life changing move from the family home to apartment living don't necessarily think in terms of how easily internal alterations can be made to their new residence. I've had clients say they felt forced into selling items simply because they couldn't see how they could be accommodated in the new residence.
Through our experience and having access to expert carpenters we create a significant difference for our clients lives. Even though editing your possessions is a cathartic process, when you move you want the things you've managed to keep to be displayed or stored properly. Sometimes in the move, people rediscover much loved items for which they've never had appropriate storage or display.
Custom joinery we've created for clients include 'secret' cupboard spaces for dining table leaves, vacuum cleaners or ironing boards, plus entertainment units, TV and audio visual cubby holes, desks and additional office storage, display and storage for various collectables, additions to walk in robes, bookshelves and of course, drink stations!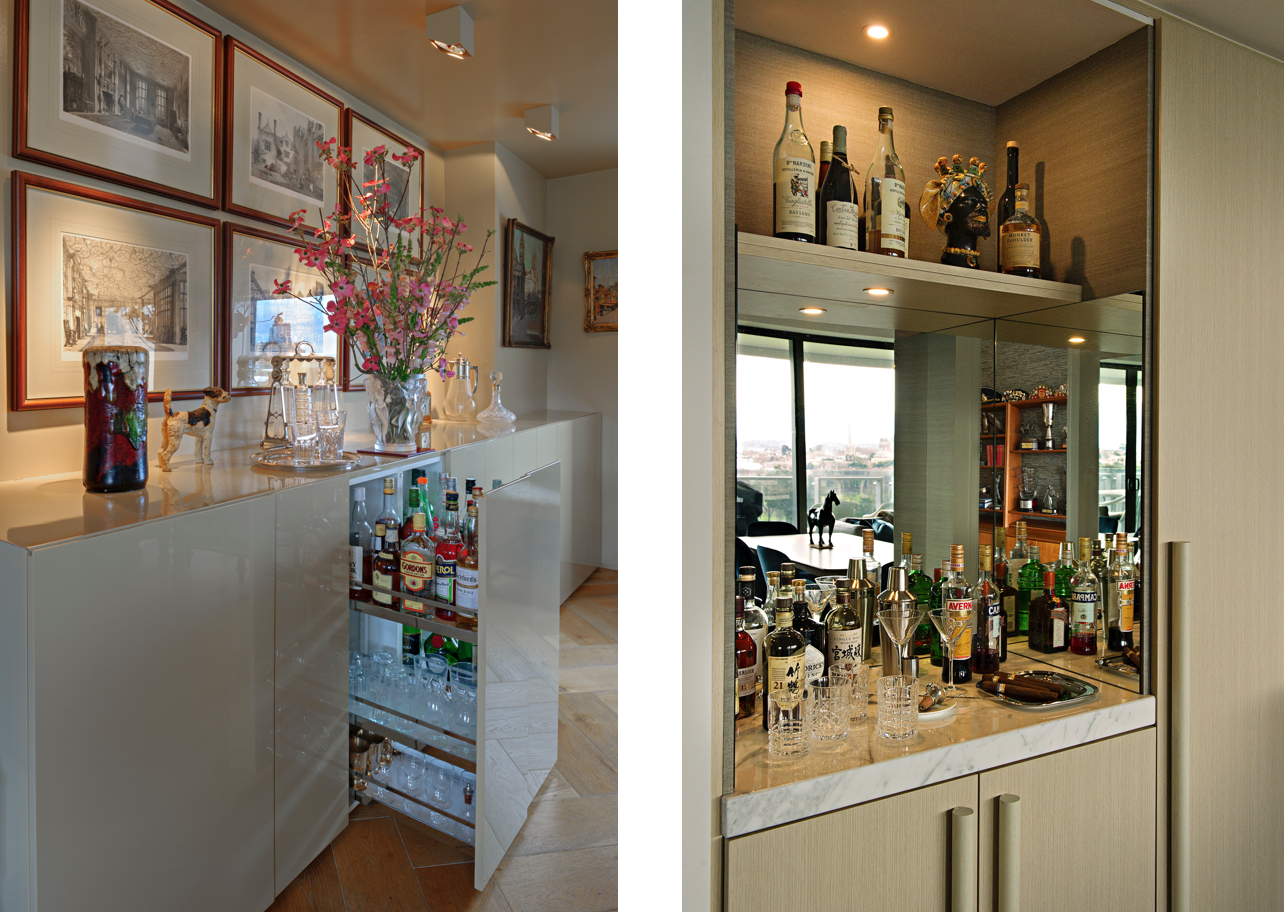 Purpose built joinery to house glassware and alcohol. And another project, a drinks area created from an extraneous wardrobe space in main living area.
Most people are happy to shed extraneous 'stuff' so they can move forward with just their most treasured pieces, and this allows them to look forward to combining them with new purchases within a modern context.
There's a wonderful analogy…. Michaelangelo had to chisel away all the detritus to finally reveal his masterpiece, the David!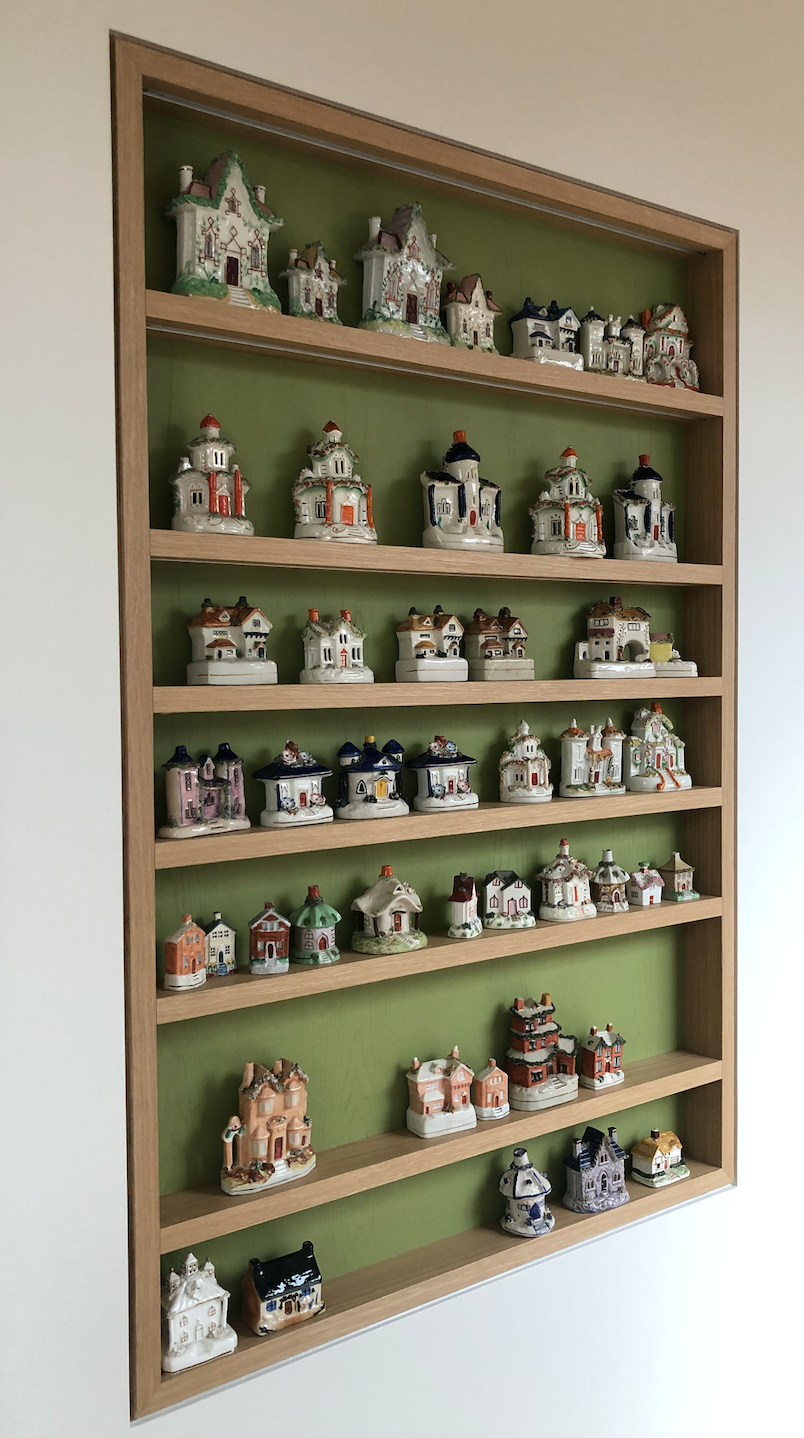 Shallow 'highlight' shelving for antique Coalport cottages.