The winter months are a great time to cosy everything up in your home and better still, if you have an open fireplace or slow combustion fireplace.
There is nothing nicer than unrolling your fireside rug from its summer hibernation, pulling armchairs closer, adding a few more cushions and throws, and bringing out needlework or knitting you've had stashed away since last winter.
It's also a good time to reposition lamps…making sure they sit comfortably behind your shoulder so as not to strain your eyes with the glare, and to introduce beautiful 'woody' noted or more complex scented candles to significantly add to the ambience for the longer nights.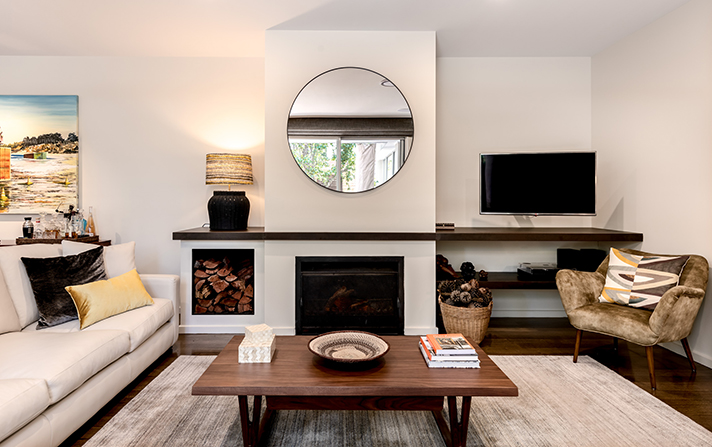 Luxe Domain's key additions for cosy winter nights are as follows:
Fireside Rugs
A small rug in front of your fireplace will not only protect your floor or existing carpet, but it will immediately make the space feel more luxurious and comfortable.
It's a good idea to have a rug either with a bold pattern, texture or even with a longer pile…all will help to disguise damage caused by sparks.
The size of the rug is predicated on the size of your hearth but usually a rug around 650mm X 1200mm will serve the purpose…I would try to match the width of the rug with the width of the hearth.
The best fibres for reducing risk of burning:
Wool: is an obvious choice given its natural oils and low level of flammability. It's also cosy in itself, environmentally friendly and easy to clean.
Jute: Jute is similar to wool… it too has natural oils which act as a fire retardant, and due to minerals found in Jute, the fibres make it resistant to fire damage…making any fallout from your fire having very little impact on your rug.
Seagrass: Like Jute, Seagrass is a non-flammable natural fibre rug with low maintenance care.
Nylon: Nylon has come a long way in the last couple of decades…and nylon rugs are also fire-resistant and extremely long lasting.