With many of our downsizing clients they relish the opportunity to finally clear out the clutter in their lives, and to identify which of their belongings are truly important. The next step then is to create the home of their dreams minus the constraints imposed from having children or elderly parents living with them.
Clients don't necessarily know the patterns, colours or 'things' which will feature in their much anticipated transitioned lives, but they certainly have a 'sense' of what they want and of how they want to feel, moving forward.
They want life to be simpler and if it means less cleaning and maintenance, they don't necessarily mind the thought of moving to smaller spaces.  There is often great anticipation for a sense of order and being in control, and of no longer having to make compromises.  They also crave soft furnishings being made from beautiful fabrics, the hanging of beautifully textured wallpapers, the selection of new furniture for comfort and to mix with existing items and finally, to being able to hang artworks which might have been in storage, or purchasing newer pieces to enrichen their new interiors.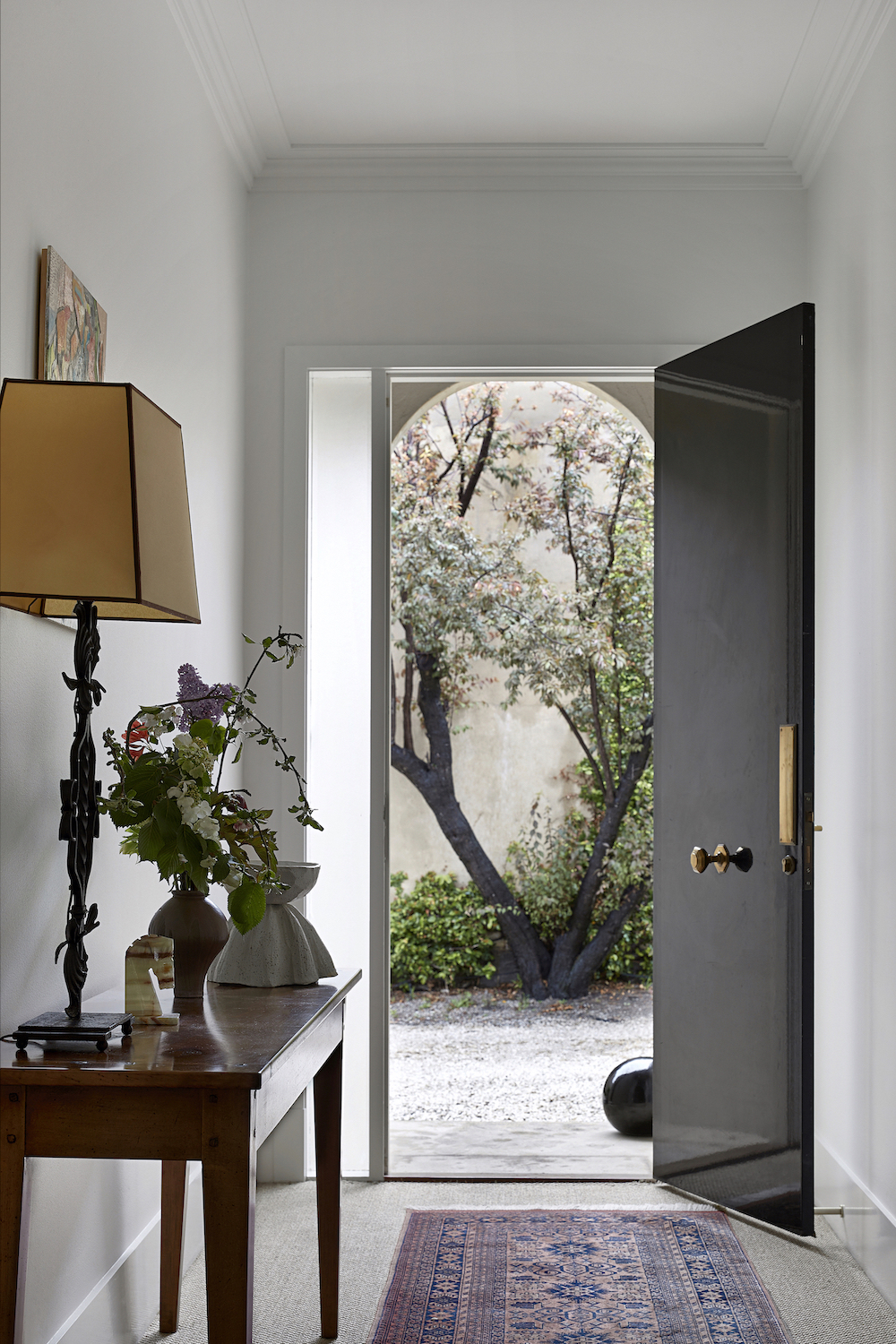 A fine example are a couple who commissioned our service at the very beginning of the first Covid lockdown. They moved from a large Victorian home and had purchased a smaller 2 bedroom townhouse. A townhouse to be their pied-a-terre, and to compliment their beach house down the coast, where they're keen to spend more time.
Which of their older pieces of furniture to be kept were chosen and members of our team sold or donated the rest on their behalf.
Due to a north facing aspect, the newly purchased townhouse has masses of natural light. We completed repairs to back decking and to garden areas, and gave everything, inside and out, a fresh lick of paint.
Existing carpet was taken up and replaced with sisal carpet which succeeded in uniting all the rooms. This alone created a beautiful and simplified backdrop for wondrous soft furnishings and new furniture.
Without going into details for other areas of the house, I'd like to focus on the decorating elements of the main bedroom. This all important room is, and should be, the haven we all retire to at the end of a long day.
To me, the meaning of luxury is having a beautiful bedroom which is exactly the way you would like it to be. Cool in summer, cosy in winter, soft, comfortable, with favourite family photos, bottles of scent, and orderly storage for jewellery and clothing.
To complete this luxurious space you need to have a very comfortable bed, perfect pillows, ample bedside tables (for stacks of books!), good bedside lighting, a glass for water, and superb linens. All of this should effortlessly come together using beautiful textures, pattern and colour palette.
This became a reality for these clients.
Entry into the main bedroom is directly from the lovely hallway entry into the home.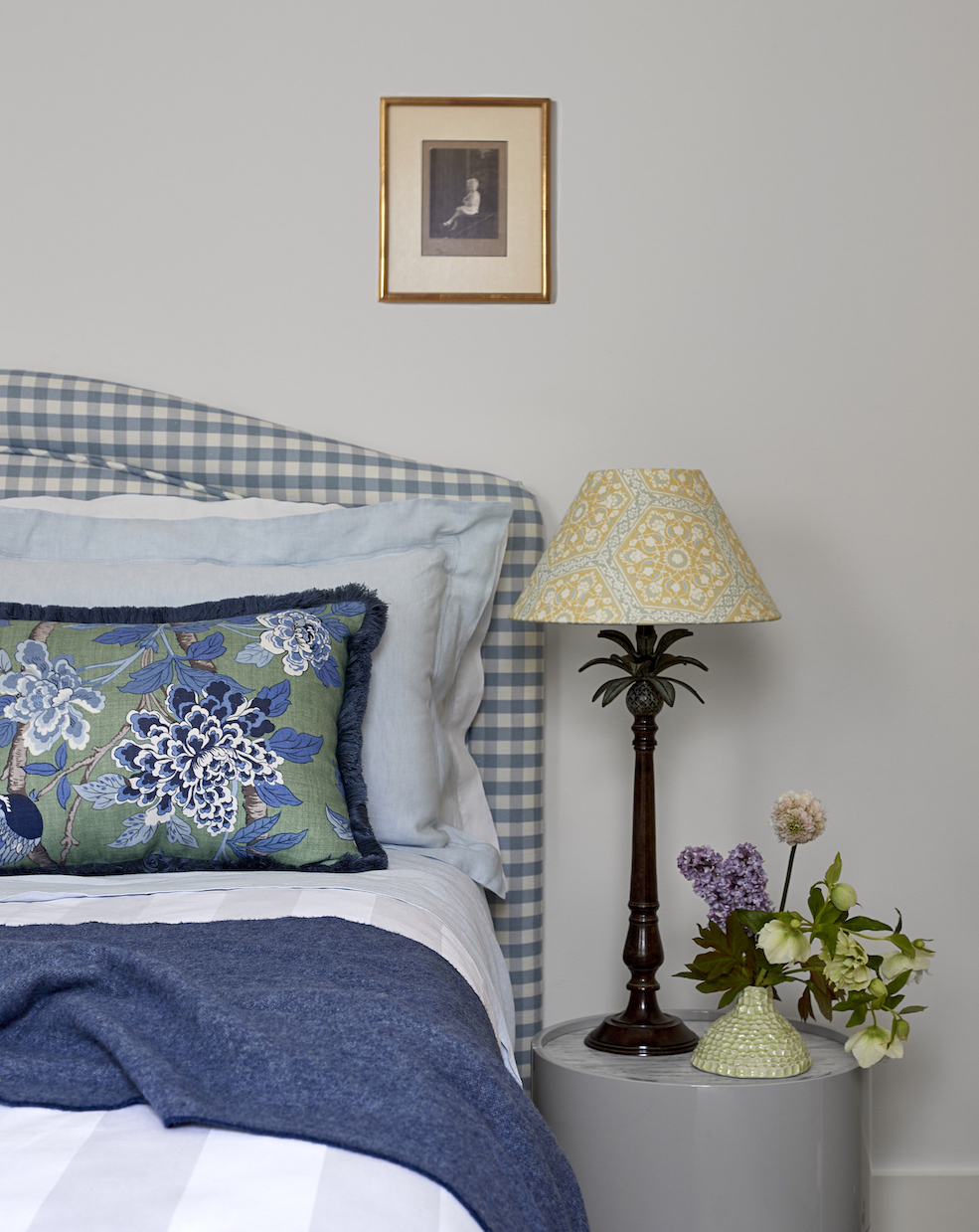 Our main inspiration for the colour scheme was GP & J Baker's famous 'Hydrangea Bird' in Emerald Blue, which we used on the 'slipper chair' and bed cushions. For the bedhead we used Inchyra's soft 'Vintage Check Linen' in Old Blue, and we then selected co-ordinating fabric from Ferran, 'Ottoman' in colour Peridot for both the curtains and upholstered pelmets. For daytime privacy and filtered daylight we also installed sheer roman blinds in a soft natural white linen, part of the James Dunlop 'Essenza' collection.
The modern round bedside tables from Domo worked well with the antique timber chest of drawers and with the palm leaf, candlestick lamp bases.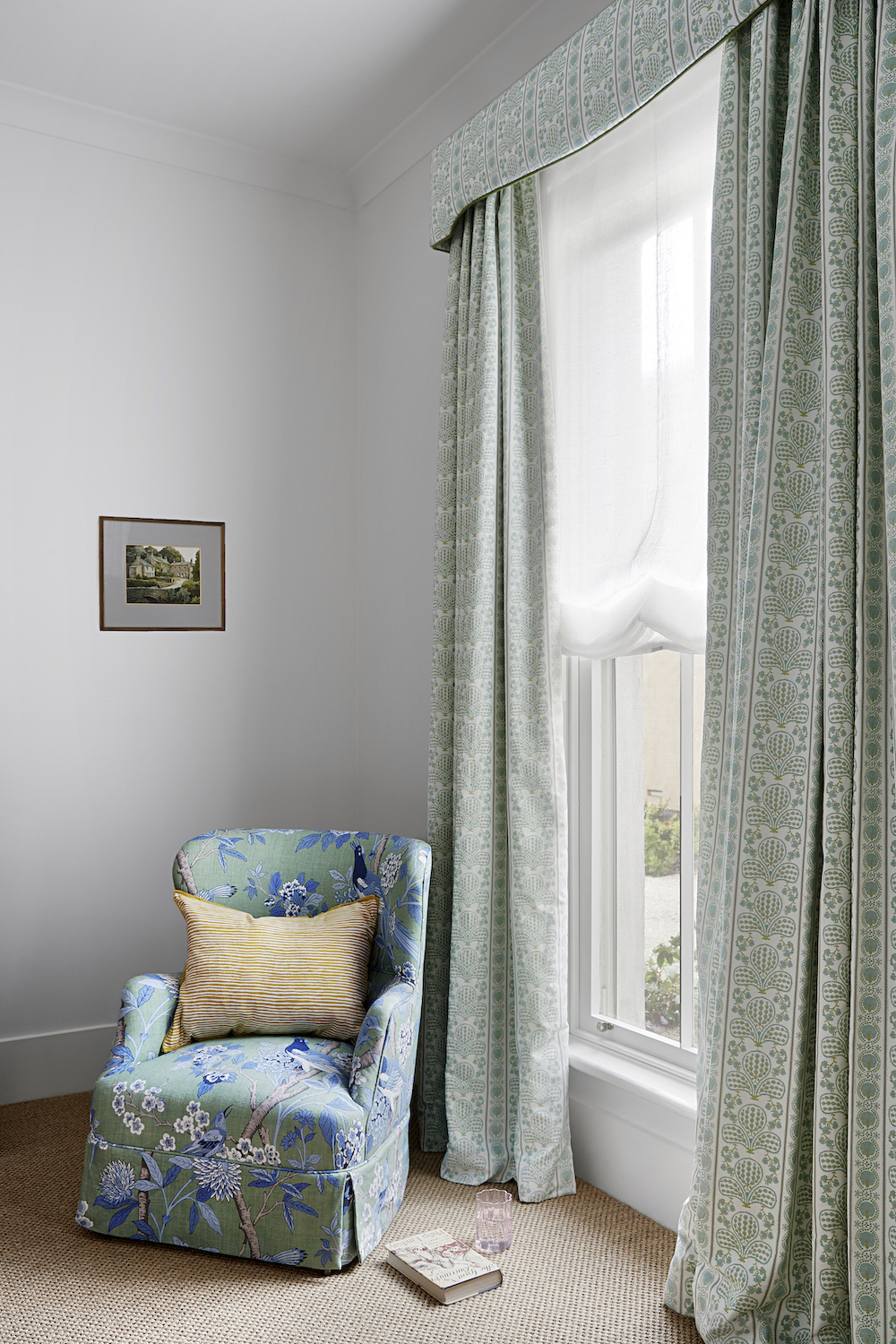 This is an elegant and almost whimsical bedroom which was a joy to create for our wonderful and patient clients …especially given the travails of multiple lockdowns.
It's been my observation that men actually like the softness of a feminine bedroom as long as it isn't overly 'pretty' with too much pink or too many ruffles and cushions.
For more information on setting up perfect wardrobe spaces and 'guest suites that deliver the hotel experience' refer to my book, The Art of Luxury Downsizing.